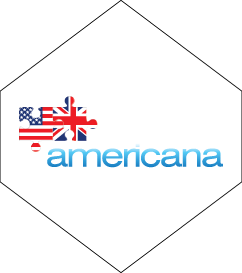 Americana (US <> UK English)
Solving linguistic puzzles since 1990
Americana provides translation between American and British English (Anglicisation & Americanization).
"A special relationship"
"They are running amuck," she says. "They are running amok," he asserts. Brief interval while they consult their dictionaries….. "Oh, you're right," they say together, "but we spell it differently."
One often hears that Britain and America are divided by a common language. Yes, when travelling, you can get by with gestures and explanations. But in business, you want your message to be readily understood and accepted. You want to sound like a native speaker…of the applicable "English," that is. We can help you fit the puzzle pieces together!
British English and American English differ greatly. Besides obvious differences in typography and spelling (e.g., tire and tyre, jail and gaol), there are far more subtle – and not so subtle – cultural differences. Most people know that Americans say "elevator" when the British say "lift." But they might not realize that "central heating" uses very different systems in the two countries (forced air ventilation compared to radiators). And the style of communication and, indeed, sense of humor/humour, are very different. We can help!
What to do next
Send us a sample of your text for assessment to see whether we're the right linguists for you and, if we are, we will discuss your project and give you a free estimate.
Recent projects
Americanization: training, recruitment and orientation as well as marketing texts for a major international group of hotel chains (over several years), a major smartphone corporation and a leading people management consultancy
Anglicisation: articles for one of the largest providers of health information services (circa 2 million words in a year-long project) and cookbooks (aka cookery books)
Learn more about what we can do for you under About Us. Let us be your first port of call when crossing the Pond!