Wight

Biography of an Island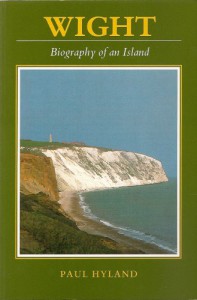 Category: Prose
Paul Hyland's Wight: Biography of an Island followed the success of Purbeck with an equally meticulous and absorbing account of a real island, also quickly recognised as a topographical classic. Wight is an offshore fragment of Britain which is both intensely English and disconcertingly exotic.
The book unpeels layers of history from Domesday (and earlier) to D-Day (and beyond). There we meet Victoria and Tennyson, Wilkes and Garibaldi, Swinburne and Fielding, Julia Margaret Cameron and W.H. Auden, Uffa Fox and Karl Marx. The book is a life story of the place, full of biographical insights into the lives of islanders and habitués. Hyland looks at the island's shape and calls it a "rough diamond" but he has worked on its every facet until it gleams and surprises.
Published: Gollancz, 1984; Dovecote Press, 1997
ISBN: 1-874336-44-X
Pages: 292
£8.95 (Dovecote Press paperback)
To buy this, go to Contact and email your order.
Praise for "Wight: Biography of an Island"
"To visitors to Wight, the book is indispensable; to islanders it is a source of self-knowledge."
Martin Booth, British Book News
"Paul Hyland's Wight gets splendidly beneath the skin."
Anthony Brode, Southern Evening Echo
"An exceptional piece of topographical writing... His words match the brightness of the place, its vivid marine atmosphere. It is a kind of inner guide to its history and ecology. Only a writer of Hyland's distinction could be so revelatory."
Ronald Blythe, author of Akenfield
"Not a guide-book but a guide: that is the claim and that the achievement."
Peter Cox, TLS
"Hyland seems incapable of writing a dull sentence."
Isle of Wight County Press
"Shafted with wit and spiced with more than a few barbs...it stems from thorough research and provides a scintillating guide."
Isle of Wight Mercury