The Stubborn Forest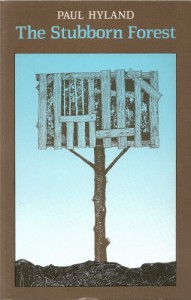 Category: Poetry
Plundering the language, Paul Hyland carefully and forcefully renders experience and imagination using "The best trees / for those tasks I could take on". Rooted in English land and life, his Stubborn Forest yields a rich hoard of new poems in the gritty Anglo-Saxon tradition.
This is a strongly imaginative book. It shows a range not only of technique but also of tone, in portraits of places and people, dream poems, riddles, elegies, and enigmatic poems which – like those of Poems of Z – speak through personae or fictional characters.
1985 The Poetry Society's ALICE HUNT BARTLETT AWARD
Published: Bloodaxe Books, 1984
ISBN: 0-906427-59-2
Pages: 96
To buy this, go to Contact and email your order.
Praise for "The Stubborn Forest"
"His relationship with the source and power of his verse is as he says 'alert'...Impressive, memorable and powerful."
Martin Mooney, The North
"Work of power and subtlety...a strikingly impressive achievement."
Martin Haslehurst, Anglo-Welsh Review
"I admire Hyland's work, and his example."
John Mole, Encounter
"Even his sadnesses carry a seed of exuberance... strong stubborn nouns and verbs of human labour and natural energy in a toughly kinetic syntax, present a world in travail....a forceful collection."
Stan Smith, Cencrastus
"Paul Hyland's most compelling poems bear witness not only to the past's 'renaissance' but also to language's capacity for renewal."
Michael O'Neill, Poetry Review