Purbeck

The Ingrained Island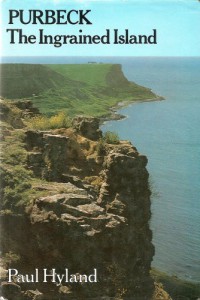 Category: Prose
A book acknowledged as a classic of its kind. Paul Hyland takes one corner of England, the Isle (so-called) of Purbeck, and explores, expertly and meticulously, its past and present. It's a strange and mysteriously beautiful region, both hidden and exploited. People say how unspoiled it is, yet it has been plundered from at least Roman times – for shale and oil, ball clay and chalk, beds of Purbeck marble and stone.
In Hyland's hands, the land reveals its secrets at every turn, every step. It's not a guide-book, but it's the ideal background book for anyone visting (or living in) this extraordinary part of the country. This book has been in print for more than thirty years and is prized as a revelatory gem by many of its readers.
Published: Victor Gollancz 1978, 1981, Dovecote Press 1989, 1999
ISBN: 654987987
Pages: 240
£7.95 (Dovecote Press paperback)
To buy this, go to Contact and email your order.
Praise for "Purbeck: The Ingrained Island"
"A work of beauty, personal and intensely felt."
Mary Cosh, The Times
"He socks impressions and history to you like a bean bag."
Roland Gant, Daily Telegraph
"A fine contribution to Dorset literature - and, indeed, to topographical writing in general... a unique sense of pleasure in the landscape of Purbeck and its history."
Victor E. Neuburg, British Book News
"A model of what a topographical study should be."
J.R.L. Anderson, Oxford Mail
"This fine book…perceptive, elegant and affectionate... combines biological knowledge with a poet's selective eye, sense of atmosphere, and most appropriately lapidary prose."
Kevin Crossley-Holland, Sunday Times BOOKS OF THE YEAR
"The author shows much the same feeling for the Wessex landscape as the old master himself... One has the feeling that Mr Hyland has turned over every stone."
Thomas Hardy Society Journal
"Compulsively readable."
Times Literary Supplement