Art of the Impossible

New & Selected Poems 1974-2004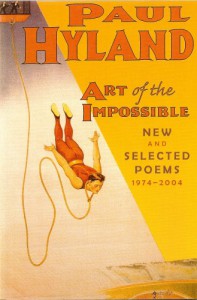 Category: Poetry
Paul Hyland's Art of the Impossible includes the life's work of the spy-poet Z as well as poems selected from four other books. It also contains a substantial collection of new poems, in which Hyland goes underground in Cleveland, explores the Mesolithic South, and worries at Iberia. Elsewhere he gets into the heads of circus performers, magicians, and the appalling Domingus, together with other unlikely characters and everyday friends.
Published: Bloodaxe Books, 2004
ISBN: 1-85224-643-X
Pages: 192
£9.95 – but NOW on special offer – £5.00
To buy this, go to Contact and email your order.
Praise for "Art of the Impossible: New & Selected Poems 1974-2004"
"There is a delightful contradiction at the heart of this important collection… a tightrope walk between science and spirit… Few recent collections will give such pleasure."
Brian Morton, PN Review
"This welcome new book reveals a poet with an extraordinarily wide range and great versatility, a gift for telling narrative and description. The quality remains consistently fine."
Matt Simpson, Orbis
"Hyland's range is wide and impressive; his perceptiveness deep and genuine… When engaged in the business of articulating a precise series of intense emotions Hyland is difficult to surpass… the delicacy of the language corresponds to the almost painful fineness of the perception."
IP inc.
"These are poems which seem to be carved, hewn and shaped from the very stone, urgent, uncompromising… Paul Hyland is the quintessential poet of Place."
Seán Street, South