Poems of Z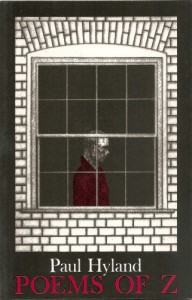 Category: Poetry
Poems of Z were composed, a decade before the fall of the Berlin wall, in the voice of an anonymous Eastern-bloc spy. There are forty of them, I – XL, written in English, and in pencil, on the unlined pages of a small notebook. Paul Hyland says, "One of my pleasures was to discover Poems of Z classified in the Russian literature section of a major English library, not that I ever thought of Z as Russian!" The poems are dedicated, "in memory of my father who knew how to talk and of my mother who knew how to sing". They were broadcast by the late great Maurice Denham, who seemed to understand their every nuance and interrelationship, on BBC Radio 3, with delicate sound effects and singing by Krystyna Felicjanka, produced by Shaun MacLoughlin.
Published: Bloodaxe Books, 1982
ISBN: 0-906427-44-4
Pages: 64
To buy this, go to Contact and email your order.
Praise for "Poems of Z"
"An archetypal poet, for whom language constitutes a world."
Lachlan Mackinnon, Times Literary Supplement
"An inventive, morally acute imagination, obsessed by the idea of resistance to power, the possibilities of freedom."
Michael O'Neill, Poetry Review
"They are great in what they see. Disillusionment, hope, abandoned morality and open love shimmer through the pages."
Martin Booth, Tribune
"The poems come at you - and they do, aimed at the heart - as if they are confessional... And that gives them an impact I urge you to experience."
Radio Times
"An unusual but credible voice for our times."
Rodney Pybus, Stand
"It is that rare and alarming object, an entirely original work, and one which deserves a far wider audience than most contemporary poetry ever receives."
Michael Farley, The Cut
"A sequence of compelling, sometimes haunting poems."
Pick of the Week, BBC Radio 4
"An unusual and entertaining achievment."
Robert Greacen, British Book News