Kicking Sawdust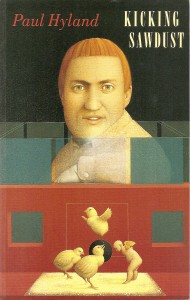 Category: Poetry
Paul Hyland's fifth poetry title, and the third from Bloodaxe Books. The language of his poetry is hard-edged, yet tenderly applied. In Kicking Sawdust he turns up the contrast in poems both lighter and darker than before. Critics and readers celebrated the power and subtlety of his earlier books, the inventiveness of his music, the variety of his forms, and – above all – the integrity of his vision.
The title sequence of this new collection is deceptively light, putting words into the mouths of performers who spend their lives kicking sawdust. Hyland doesn't put a foot wrong: his voice is unmistakable, its energy and wit committed to sensuous, serious, playful exploration of the world.
Published: Bloodaxe Books, 1995
ISBN: 1-85224-312-0
Pages: 80
To buy this, go to Contact and email your order.
Praise for "Kicking Sawdust"
"Highly individual...brilliantly conceived and expressed, though the brilliance is mysterious...an English poetry as essential as landscape."
Anne Born, Tears in the Fence
"A delicate exploration... funny and moving."
The North
"Scrupulous in angle, sympathy and tone... his poems are unstrained, carefully-judged and razory... his commitment to poetry as the best way to articulate the incalculable diversity of the world's dimensions is impressive... equally effective when he speaks in the voice of personae or when he executes brilliant thumb-nail sketches... perfectly poised between the showy characters on display and the unostentatious forms used to represent them... Joyce and Wilde might have recognised that balance of chaos and equilibrium; we should take pleasure in it too."
Alan Riach, Lines Review
"One is entered and altered by these poems."
PQR