Indian Balm

Travels amongst fakirs and fire warriors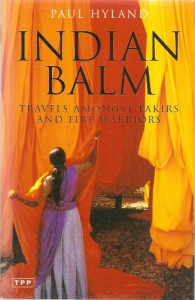 Category: Prose
Indian Balm is the captivating account of a journey Paul Hyland made along the little-known course of the sacred Godavari river in Southern India: a pilgrimage through both his past and India's present. It is the story of his search for his ancestors – missionaries and traders – who first landed on the Coramandel coast in 1836, and of their Balm, a wonder cure for all sorts of ailments and afflictions. Travelling to the home of his cousin, the last of his family to remain in the country, Hyland encounters snake charmers and sadhus, bogi men and horn dancers, and experiences both ancient rituals and the most simple aspects of daily life. An extraordinary and above all unique journey, Indian Balm illuminates the best, and the worst, of this magical country.
Published: HarperCollins 1994, Flamingo 1995, Tauris Parke 2006
ISBN: 1-84511-085-4
Pages: 290
To buy this, go to Contact and email your order.
Praise for "Indian Balm: Travels amongst fakirs and fire warriors"
"As pungently aromatic as a Madras curry."
Sunday Telegraph BOOKS OF THE YEAR
"Balm for armchair travellers... magnificent... this cracker of a book."
Western Morning News
"Paul Hyland went off the tourist track and up the river his forebears adopted... captures the spirit... a thoroughly engrossing read."
Choice BOOK OF THE MONTH
"He evokes the India of then and now with telling detail and a strong sense of immediacy."
The Age (Australia)
"Indian Balm sheds vivid and dramatic light on this unsung Indian province. A richly rewarding read."
John Keay, author of India: A History