Domingus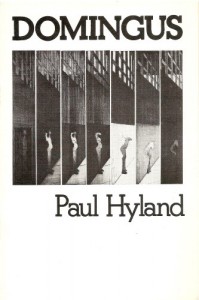 Category: Poetry
Domingus is dedicated to the printmaker Martin Ware and the composer Barry Anderson. The first Domingus poem inspired Martin Ware to make a powerful etching; that provoked Paul Hyland to write more poems, and so on, until a series of poems and images was complete. Domingus was recorded at Maida Vale and twice broadcast on BBC Radio 3 with a fabulous electro-acoustic score by Barry Anderson, and with John Franklyn-Robbins as Domingus. It was also performed at the Almeida Theatre, Queen Elizabeth Hall, etc., and recorded on Barry Anderson's CD Arc.

Published: Mid-Day Publications 1978
ISBN: 0-906226-06-6 (ordinary edition) 0-906226-07-4 (signed edition)
Pages: 20
To buy this, go to Contact and email your order.
Praise for "Domingus"
"Paul Hyland's two pamphlets, Domingus and Riddles for Jack, have a style 'like a supple glove'. [Domingus is] a linked series of vignettes, Hogarthian in tone, powerful and full of clarities. His language is in the main characterised by carefulness and a spare elegance."
John Cassidy, Poetry Review