Backwards Out of the Big World

A Voyage into Portugal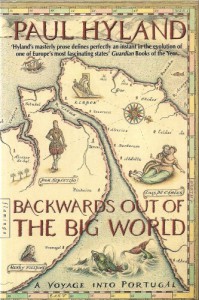 Category: Prose
Europe's westernmost edge is Portugal: "a country underestimated out of ignorance, a history that amnesia has wiped clean, a dictatorship which lasted forty years, a revolution we hardly noticed". Portugal's navigators opened up most of the globe; the paradigm world power, it hung on to its colonies the longest. In this book, we discover the discoverers now, as they turn from far horizons to face Brussels.
Paul Hyland arrives by cargo boat, following Henry Fielding's Voyage to Lisbon. Hyland ascends the Tagus from Lisbon, through Portugal's heartland and across Europe's oldest intact frontier to Spain. He meets today's writers, in the land of Camões and Pessoa, and probes the nation's psyche with fishwives, bullfighters, businessmen and gypsies. He talks with the pretender to the defunct throne, and encounters Portugal's once-and-future king, Dom Sebastião, supposed to have died in 1578, but still alive and well and waiting.
The Portuguese say, "Once we were so great, now we are so small." Backwards out of the Big World is a brilliant and surprising look at one of Europe's most extraordinary and little-known countries, by an unusually gifted writer.
Published: HarperCollins, 1996; Flamingo, 1997; Gradiva, 1996; Circulo de Leitores, 1996
ISBN: 0-00-255556-5 (hardback) 0-00-654826-1 (paperback)
Pages: 270
£7.99 (paperback) £18.00 (hardback)
Praise for "Backwards Out of the Big World: A Voyage into Portugal"
"Hyland's masterly prose defines perfectly an instant in the evolution of one of Europe's most fascinating and yet underestimated states."
Michael Asher, Guardian BOOKS OF THE YEAR
"If you are going to Portugal, you must carry this book in your pocket... he leaves an abiding sense of a country that has shed its skin."
Sara Wheeler, Literary Review
"Hyland is particularly good at catching the passing moment of Portuguese lives at unguarded moments ...an almost hallucinatorily lucid exposure."
Christopher Howse, Spectator
"A delicious book."
Cactus Review
"A fascinating and sympathetic account of a journey through Portugal by a man who knows the country's people, history and literature as few foreigners do."
Rough Guide to Portugal
"I think he has a Portuguese soul."
Edite Vieira, Anglo-Portuguese Society Newsletter
"Prepare for the fact that you'll probably want to go to Portugal too, after you've read this book."
Anthony Sattin, Sunday Times BOOKS OF THE YEAR