The Babel Guide

to the Fiction of Portugal, Brazil & Africa in English translation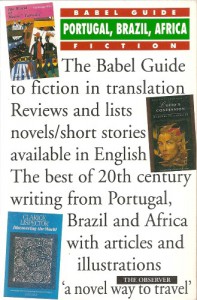 Category: Prose
Written by Ray Keenoy, David Treece and Paul Hyland, with other contributors, this guide offers lively original reviews of the best books by authors from Portugal, Brazil, Angola and Mozambique with excerpts and full listings of all translations published since 1945.
Paul Hyland reviews works by Fernando Pessoa, José Saramago, António Lobo Antunes, Eça de Queirós, Almeida Garrett, Antonio Tabucchi and José Cardoso Pires.
The Babel Guide is your way in to this wide world of reading – inside are details on all the novels and short stories from these countries available in English with 70 'trailers' to the best books of 35 major writers to aid your purchasing or borrowing choices.
Take a journey to the heart and soul of another world; here is the guide.
Published: Boulevard, 1995
ISBN: 1-899460-05-5
Pages: 168
Praise for "The Babel Guide: to the Fiction of Portugal, Brazil & Africa in English translation"
"Illuminating articles on Fernando Pessoa and José Saramago by Paul Hyland."
Times Literary Supplement
"A novel way to travel."
Observer
"A brilliant idea."
BBC Radio 3
"Tourists who hate being tourists will lap up this new series."
The Guardian